Campus Cache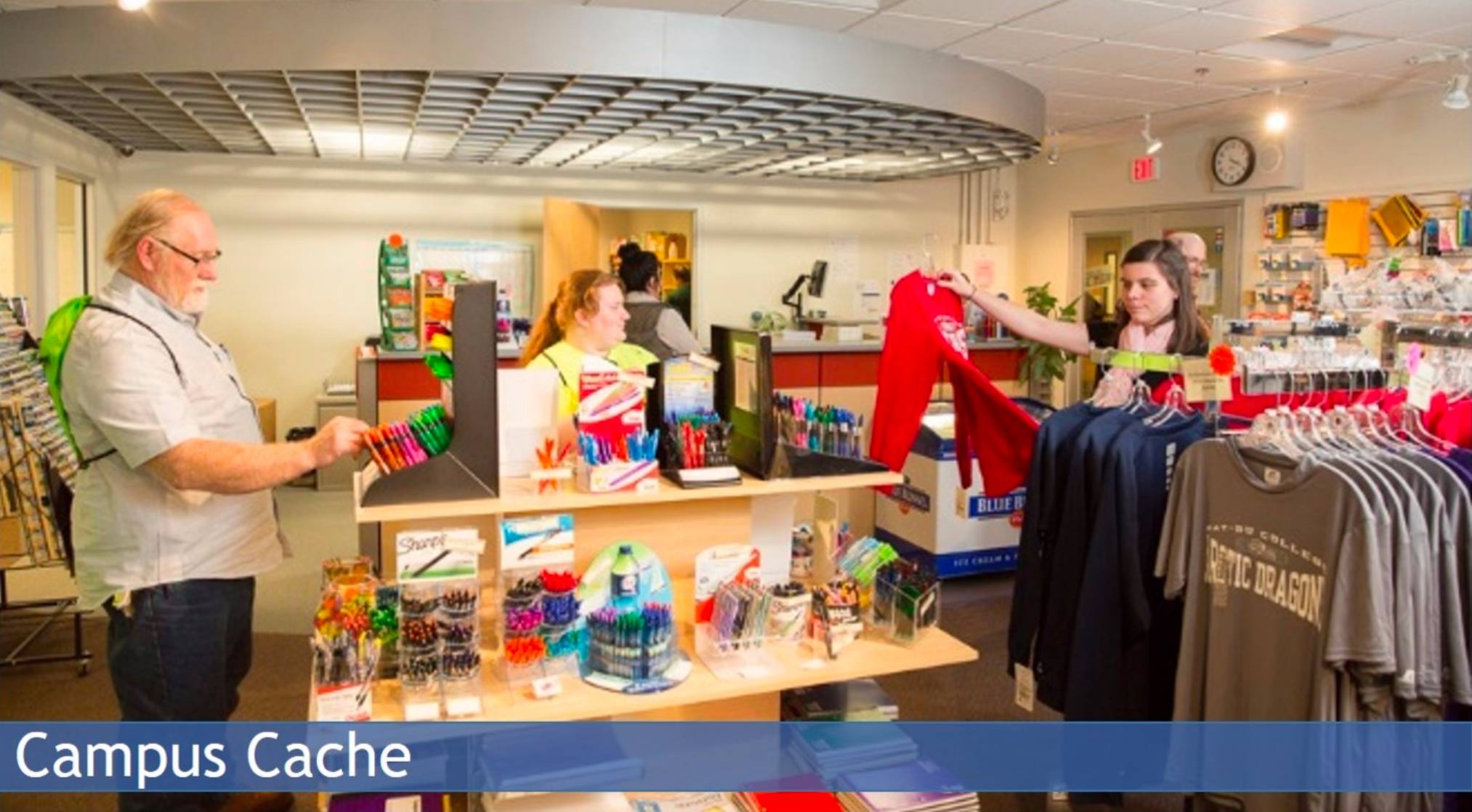 The Mat-Su College store, the Campus Cache, offers students, faculty and staff quick access to needed supplies, textbooks, study guides and clothing. The Campus Cache also serves as cashiering for the entire campus, accepting payment for tuition, fees, testing and more.
Financial Aid for the Spring 2019 Semester will begin applying to student accounts on January 4, 2019. If the total amount of your financial aid is greater than the amount of your bill, you will receive a refund. The University has 14 days to disburse the credit on a student's account from the date in which the credit was created. Please check your UAOnline account – once your term balance shows a $0, a direct deposit should be in your designated bank account within 3 to 4 business days or a check to your mailing address on file within 7 to 10 business days. It is very important to keep your address up to date on UAOnline. Excess financial aid cannot typically be used to pay for previous balances, according to Federal Regulations. If you owe an outstanding balance, contact the Financial Aid office for the best advice on your available options.
The fastest way to receive your money is to sign up for Direct Deposit on UAOnline.
Seek help from the Financial Aid office regarding loans, SAP and other financial aid questions.
Due to the high volume of refunds at the beginning of each semester, please allow 5-10 business days for processing.
All of the following payments to Mat-Su College, or any UA Campus, can be made through the Cashier in the Campus Cache.
Tuition & Fees
Books & Supplies
All Testing Fees
Library Fines
Parking Citations
Credit/Debit Card Policy
This policy does NOT affect purchases made in the Campus Cache for textbooks, supplies, clothing and more.
Effective June 1, 2016 credit and debit card payments for student accounts will no longer be accepted in person for processing by the University of Alaska. Credit/debit card payments will only be accepted online via UAOnline or TMS Student Account Center and will include a service fee of 2.75%.
The "free" payment option available are:
Web check (ACH) payments may be be made via UAOnline or the TMS Student Account Center for free, the service fee will NOT apply to these transactions.
Checks, cash and money orders will continue to be accepted at Mat-Su College, either in person at the Campus Cache or by mail to:
Mat-Su College
Attn: Cashiering
8295 E College Dr
Palmer AK 99645
---
Spring 2019 Dates
Add/Drop Deadline for 100% refund
January 25, 5:00pm
Payment Deadline, $125 late fee assessed
February 4, 5:00pm
$175 late fee assessed
March 25, 5:00pm