Alvin S. Okeson Library - Printing
Add Wolfbucks for Printing
There is a kiosk in the library to add Wolfbucks to your card using cash. Students may also add Wolfbucks to their accounts using a credit or debit card by visiting the UAA WolfCard website
Printing from Your Laptop (Students Only)
Login to the UAA Print Center
Login with the same username and password you use for Blackboard.
Click the "Upload" button then select the file that you want to print from your device. Your file will appear.
Wait for it to finish "processing". It may take awhile. If it takes more than a minute, click the "refresh" button.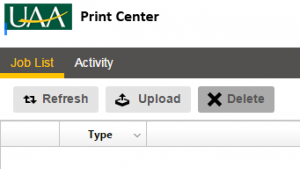 Check the box next to the file name and select the print options that you would like from the menu at the bottom of the page.
Select the printer by clicking on the triangle above the print button.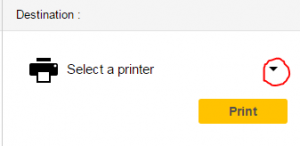 Type OLB into the search box.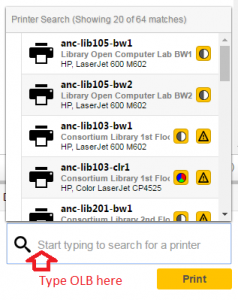 Click on the printer that you want to use then click print.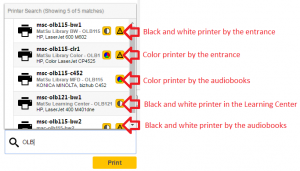 Finally, confirm that you want to print the job printed on the selected printer. It will print immediately after you confirm your selection.
Printing from Your Laptop (Anyone)
If you are an infrequent user of the library's printers or cannot use the printing method described above, you may find it more convenient to borrow one of our flash drives so that you can print using one of the computer lab stations. If you don't want to do that...
Download and install the driver for your operating system and the printer you want to use (You only need to do this part once):
For the library's black and white printer:
Windows Vista Instructions/7/8/8.1/10
macOS Instructions (10.7.x - 10.12.x)
For the library's color printer:
Windows Vista Instructions/7/8/8.1/10
macOS Instructions (10.7.x - 10.12.x) uses the same print driver for both black and white and color printing.
To print:
Once the driver is installed make sure the appropriate printer is selected from your computer's "devices and printers" on the Start button menu.
Print the document as you normally would. You will be asked to provide a username and password. Just make them up.

Be patient for this next part. It can take a while for the print job to appear. Your print job is likely to appear on the list at the print release station at about the time you are certain that it couldn't have possibly have been sent in the first place.

Go to print release station.
Move the mouse to begin.
Swipe your Wolfcard card or print card.
Select your print job from the list. It will have the username that you provided. You may need to refresh the list before it displays.
Click the Print button at the bottom of the screen.
Enter in the password you provided when you submitted your job.
Click the logoff icon in the lower-left of the screen.