Current News
Rolled Gold Open at MSC
August 30, 2023
This week, the grill at Mat-Su College was fired up giving students, faculty, and staff the option of a hot meal without leaving campus.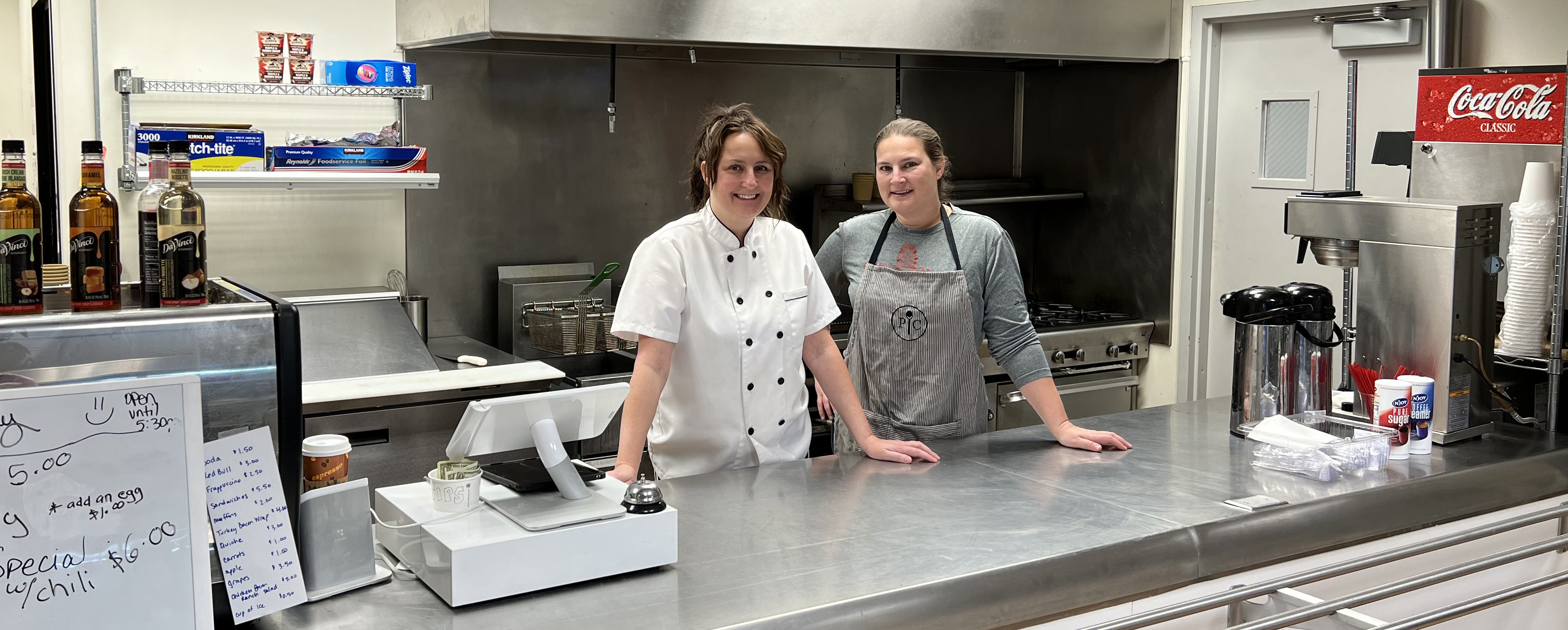 Melissa Schachle and Katie Richardson have named their on-campus venture Rolled Gold, after Melissa's former food truck specializing in unique egg rolls including buffalo chicken, pulled pork, and even mac and cheese. Those creations are sure to find their way on the menu in the weeks to come. Other menu items will include quick and fresh choices for breakfast and lunch like burgers, fries, quesadillas, and more. The sisters are also open to hearing from students about what they want to eat.

Melissa has worked at Wasilla's Grape Tap for the last 13 years and has a culinary arts degree from UAA. Sister Katie got her degree at MSC. Katie says "This opportunity gives Melissa the chance to share her passion for food with others." She continues, "Rolled Gold is thankful for this opportunity to serve delicious food to feed hungry minds."

Excitement for Rolled Gold extends beyond the kitchen. Maggie Boman, Director of Administrative Services says "I'm looking forward to a variety of good food at reasonable prices for our students. It is exciting to have a vendor back on campus."
To stay up-to-date on hours and choices at Rolled Gold, follow its new Facebook page.
University Police At MSC
August 30, 2023
Among the seemingly new faces to campus this year, there one person who is actually making their return to MSC.

Image of Campus Safety Officer Sam.
Campus Security Officer Sam McKown was once a student here at MSC and is now a member of the University Police Department (UPD) based at the University of Alaska Anchorage (UAA) Campus.
Campus Security Officer Sam is working here on our campus to provide safety and security for students, faculty and staff. She can help with vehicle jump starts, vehicle unlocks, on-campus escorts, safety education programs, confidential conversations and of course respond to calls for assistance.
You will be able to tell the difference between a police officer and the campus security officer by the uniform they are wearing. Security wears a green uniform while the police officers wear the traditional navy blue uniforms.
A crime log for the past 60 days is located outside the door of the UPD office 122c Jalmar Kerttula building on the Mat-Su Campus. Crime logs older than 60 days are available within two business days of a request for public inspection. Crime Logs are not older than March 15, 2022 for Mat-Su College as the college did not have a security department prior to this date. Information may be temporarily withheld if certain requirements are met, such as if sharing the information may jeopardize an on-going investigation or jeopardize the safety of an individual.
If you need to get in touch with an officer, you are asked to call UPD Dispatch at (907) 786-1120. If you have an emergency, call 911 immediately.
You can also download the UPD safety app "Rave Guardian" which allows you to turn your smartphone into a personal safety device and campus resource center. The app is available at the Apple App Store and through Google Play.
New Director at Mat-Su College
August 30, 2023
For the first time in 13 years, we start a new academic year with a new person in the Director's Office. Marie Gardner, Ed.D., has been selected to take the reigns of Mat-Su College.
Dr. Gardner is set to fully start on October 7th. She is coming to Alaska from her current role as dean for the Ottawa and Online Campuses of Neosho County Community College in Ottawa, Kansas.
In the meantime, Larry Morris Foster, Ph.D., will serve as interim director of Mat-Su College. Foster has a message for new and returning students. He says "Faculty and staff are here for you. Your success is our success."
Dr. Foster is a professor emeritus in mathematics and previously served as interim director of academic affairs at MSC.