Current News
Rolled Gold Open at MSC
November 17, 2022
This week, the grill at Mat-Su College was fired up for the first time in three years, giving students, faculty, and staff the option of a hot meal without leaving campus. This big step back to our precovid normalcy was made possible by a pair of sisters with strong community and campus ties.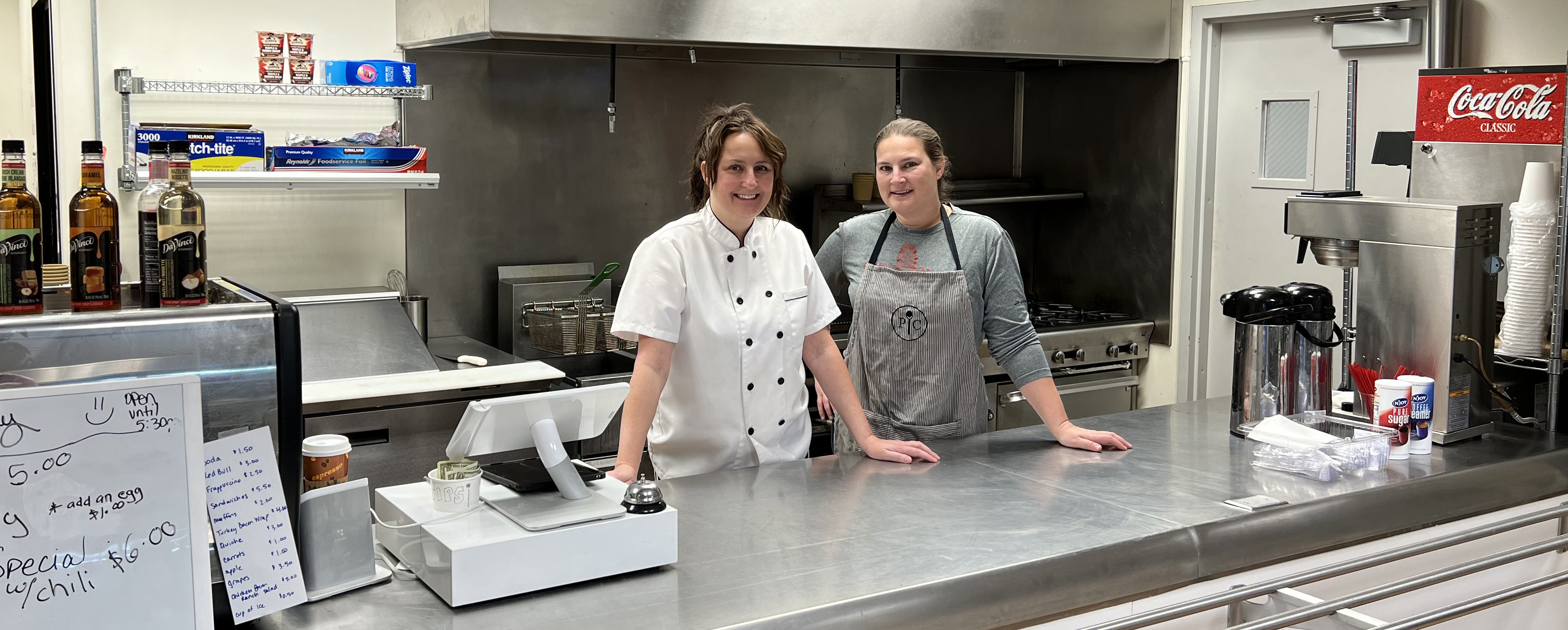 Melissa Schachle and Katie Richardson have named their on-campus venture Rolled Gold, after Melissa's former food truck specializing in unique egg rolls including buffalo chicken, pulled pork, and even mac and cheese. Those creations are sure to find their way on the menu in the weeks to come. Other menu items will include quick and fresh choices for breakfast and lunch like burgers, fries, quesadillas, and more. The sisters are also open to hearing from students about what they want to eat.

Melissa has worked at Wasilla's Grape Tap for the last 13 years and has a culinary arts degree from UAA. Sister Katie got her degree at MSC. Katie says "This opportunity gives Melissa the chance to share her passion for food with others." She continues, "Rolled Gold is thankful for this opportunity to serve delicious food to feed hungry minds."

Excitement for Rolled Gold extends beyond the kitchen. Maggie Boman, Director of Administrative Services says "I'm looking forward to a variety of good food at reasonable prices for our students. It is exciting to have a vendor back on campus."

Student Government president Joe Pavia-Jones welcomes the sense of community that an on-campus restaurant provides. He says "Lunchtime is when people get together, they get to talk, they relax, take a break from their typical school day, and having a place to go and join with friends is really important to our ability to study and get good grades."

Eventually Rolled Gold hopes also to offer ready-to-go take-home meals that will be perfect for a quick dinner after a busy day on campus. To stay up-to-date on hours and choices at Rolled Gold, follow its new Facebook page.
University Police At MSC
March 21, 2022
Image of Officer Kevin Stevenson in his Univeristy Police Department uniform.
You may have already seen Officer Kevin Stevenson walking the halls of our campus. He is a member of the University Police Department (UPD) based at the University of Alaska Anchorage (UAA) Campus. He has been a police officer for 30 years and 18 of those years have been with UPD.
Officer Stevenson is on our campus to provide safety and security for students, faculty and staff. He says "I want students, staff and facility to feel comfortable and come in and talk, even if they want to have a confidential conversation."
While Stevenson is here for now, eventually he will rotate out with other UPD officers. Officers can perform vehicle jump starts, vehicle unlocks, on-campus escorts, safety education programs, and of course respond to calls for assistance.
If you need to get in touch with an officer, you are asked to call UPD Dispatch at (907) 786-1120. If you have an emergency, call 911 immediately.
Mat-Su College Director Announces Retirement
January 17, 2023
(Palmer, AK) Mat-Su College (MSC) Director Talis Colberg has given notice of his intent to retire in October 2023, after 13 years leading the college. Colberg will continue as director until October, to allow for a search process and adequate transition to a new director in the Fall 2023 semester.
Colberg has a long history with the campus, as a student, faculty member and finally director. His first association with the college came when it was still known as Palmer Community College. He was hired by then director Al Okeson in 1974 as an algebra tutor, despite Colberg himself still being in high school. Though the position only required a few hours of work per week, it was the beginning of a long and accomplished career for Colberg.
The very next year, Colberg would take his first class on campus. In 1987, Palmer Community College officially became part of the University of Alaska Anchorage. At this time, Colberg was establishing his notable legal career. In 1992, Colberg found his way back to MSC, this time to teach a history class.
"That evening of talking about a topic I loved was perhaps one of the best things that ever happened to me," said Colberg. "I taught seventy-two classes (history and law) at this college. Teaching those classes was the best job I have ever had."
Colberg continued as an adjunct professor with the university at night while working his day job as an attorney and some additional work as a Borough Assembly Member, a twice-elected Borough Mayor and then three years as Alaska's Attorney General.
Colberg was hired as the tenth director of MSC in 2010 and has been an instrumental member of the campus and the Mat-Su Valley community ever since. He has led the campus through many challenges, including the construction of the Glenn Massay Theater and a global pandemic.
"We honor Talis Colberg's many years of service to our college, the people of the Mat-Su Valley and our state,' said UAA Chancellor Sean Parnell. "His intellect, wit, kindness and passion for teaching will be sorely missed. We wish Talis the very best in his next chapter. We look forward to working with him as a colleague until his retirement this fall and into the future."
Looking back at his time as director, Colberg simply says, "Watching my students attain successful moments in their own lives has been wonderful."
More information about the search for a new director is forthcoming.