Journey
Welcome to Mat-Su College!
Welcome to your Mat-Su College educational journey. There are many rewarding experiences along the path to your ultimate goal; however, there are tests along the way (and not just the ones you take in class).
Mat-Su College is sponsoring a series of activities for students, staff, and faculty this semester to help you cope with stress, rise to challenges, and stay healthy as you make your way through this exciting, and often hectic time in your life.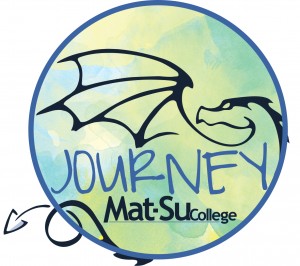 By joining your MSC community at Journey events this semester, you can follow Sophia, our Arctic Dragon Mascot, on the four paths for health and well-being:
Awareness
of good mental health for yourself and others
Balance
between school,
work, family, and self-care
Connection
to campus, community, friends, and family
Off the Beaten Path
invites you to
expand your horizons
All Journey events are free. Just look for the Mat-Su College Arctic Dragon stamp of approval! Some events require pre-registration, so be sure to check the event before attending.
Mat-Su College Journey activities and behavioral care services are supported by a Healthy Impact Grant from the Mat-Su Health Foundation.
---
Incentives
Attend events, collect stamps, and collect incentives
Bring your Passport to Student Services when you have collected:
3 stamps - A choice of Frisbee, pedometer, or USB charger (while supplies lasts)
5 stamps - $10 J&J Café gift card
6 stamps - $20 Campus Cache gift card
7-10 stamps - Enter a drawing to win Journey spirit-wear or a $50 Campus Cache gift card
Remember
: when you attend a Dragon-approved event, make sure you get your passport stamped. Passports will not be stamped retroactively: You must collect your stamp at the event. Limit one passport per person.
Passports will be available in Student Services, around campus, and at Journey Activities. Good luck on your journey and best wishes for a happy and
healthy
semester!
---
Dragon Approved Activities
Upcoming Journey Events will be listed below once schedule is available.
Traveler's Aid
Earn a Proactive Stamp:
Attend a FAFSA Friday or Scholarship Workshop

Use the MSC Math or Writing Tutor services

Join a Math Cram Jam session

Show up to a library information session

Meet with a career counselor in Student Services

Meet with your Mat-Su College advisor
---
Don't Go It Alone!
You're not alone on this journey! If you feel like you're losing your way, there are places to go to help you get back on track:
Counseling Services
Mat-Su College students may receive up to five free counseling appointments with an experienced behavioral health clinician. To make an appointment, call Mat-Su Health Services at 907-376-2411 and identify yourself as a Mat-Su College student. You may meet with the clinician on campus or at Mat-Su Health Services.
Campus Resources
All faculty and staff are available to assist you in achieving your educational goals. Just ask for help!
Mat-Su Valley Resources
Pick up a United Way of Mat-Su Guide to Valley Resources at Journey Awareness events or visit the United Way website for a complete listing of organizations and agencies.