Campus Cache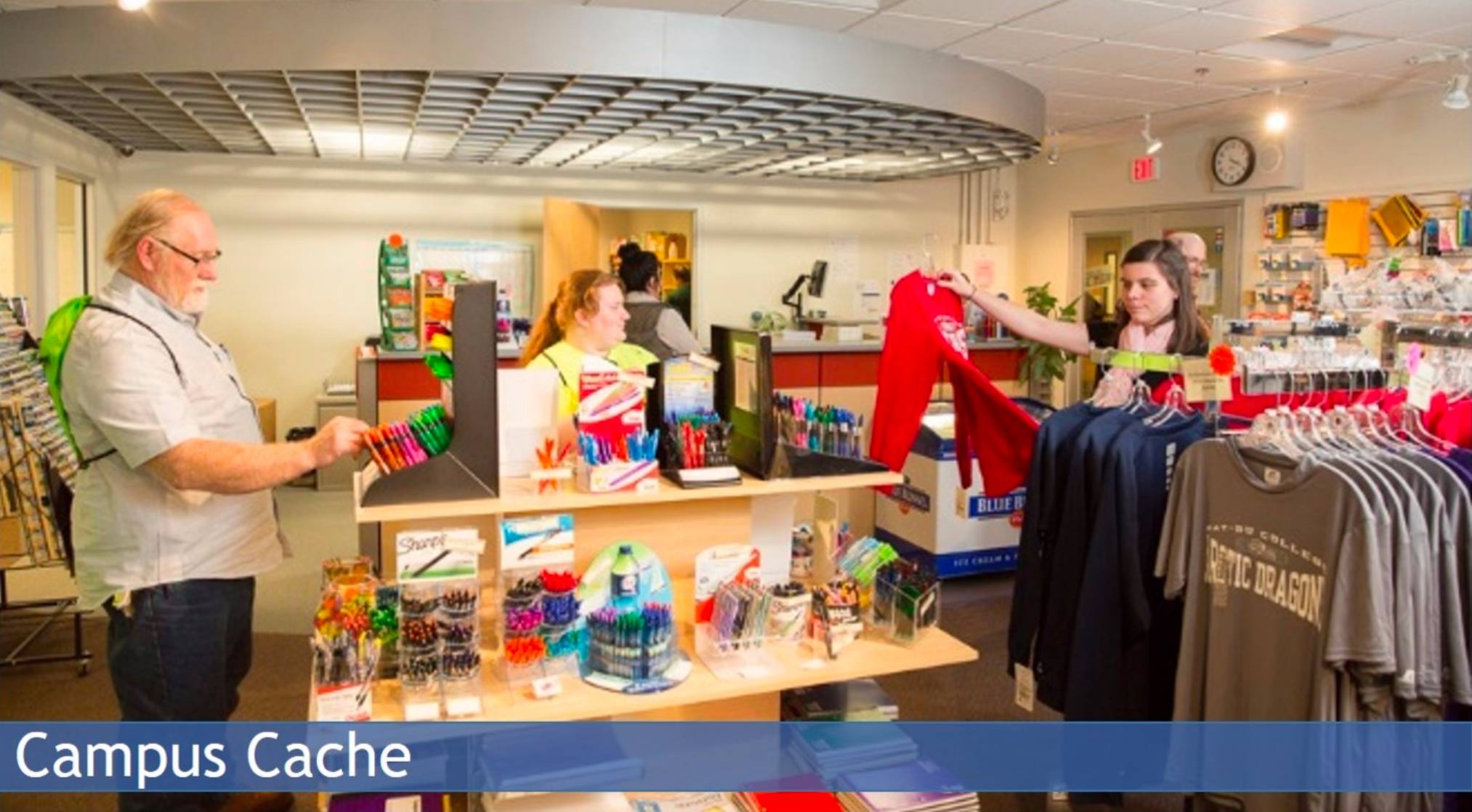 The Mat-Su College store, the Campus Cache, offers students, faculty and staff quick access to needed supplies, textbooks, study guides and clothing. The Campus Cache also serves as cashiering for the entire campus, accepting payment for tuition, fees, testing and more.
All of the following payments to Mat-Su College, or any UA Campus, can be made through the Cashier in the Campus Cache.
Tuition & Fees
Books & Supplies
All Testing Fees
Library Fines
Parking Citations
Credit/Debit Card Policy
This policy does NOT affect purchases made in the Campus Cache for textbooks, supplies, clothing and more.
Effective June 1, 2016 credit and debit card payments for student accounts will no longer be accepted in person for processing by the University of Alaska. Credit/debit card payments will only be accepted online via UAOnline and will include a non-refundable service fee.
The "free" payment option available are:
Web check (ACH) payments may be be made via UAOnline for free, the service fee will NOT apply to these transactions.
Checks, cash and money orders will continue to be accepted at Mat-Su College, either in person at the Campus Cache or by mail to:
Mat-Su College
Attn: Cashiering
8295 E College Dr
Palmer AK 99645
Physical Location Mailing Address
Mat-Su College Mat-Su College
Jalmar Kerttula Building (JKB) 109 8295 E College Dr
8295 E College Dr Palmer AK 99645
Palmer AK 99645
Fall & Spring Semester Hours
| | |
| --- | --- |
| Day of Week | Hours of Operation |
| Monday | 8:30am-5:00pm |
| Tuesday | 8:30am-5:00pm |
| Wednesday | 8:30am-5:00pm |
| Thursday | 8:30am-5:00pm |
| Friday | 8:30am-5:00pm |
Summer Semester Hours
| | |
| --- | --- |
| Day of Week | Hours of Operation |
| Monday | 8:30am-5:00pm |
| Tuesday | 8:30am-5:00pm |
| Wednesday | 8:30am-5:00pm |
| Thursday | 8:30am-5:00pm |
| Friday | 8:30am-5:00pm |